The latest modern kitchen design trends and ideas for the upcoming year, 2021 will be discussed. It is recommended to visit a kitchen company in Scotland to get kitchen design ideas. The kitchen company may have a kitchen designer on their team that can help you plan the kitchen you have always wanted in keeping with the latest trends. Investing in kitchen renovations is a valuable decision for you to continue living in your home and enjoying the upgrades or for resale. The 20 modern kitchen design trends to be discussed below will inspire the new look in your kitchen. 
1. Well-thought-out compact design benefits your kitchen
Depending on the design of your kitchen being narrow, square or broken plan, clever compact kitchen design will reap the rewards. Kitchen design that focusses on minimal clutter and efficiency or functionality is critical. When you have a smaller kitchen, you need to consider the layout of your kitchen. Installing your cabinetry along one wall streamlines the space. Taller wall units are suited to narrow galley kitchens. Incorporating a kitchen island or breakfast bar into your small kitchen offers a seating and entertainment area. The area under the kitchen island can be used as storage.
2. Easily accessible hot water taps are on trend
Steaming hot water taps are going to be in demand in kitchens in 2021. Steaming hot water tap sales have increased in 2020. It is believed this is due to many people working from home in 2020. With many people at home the demand for quality hot water taps has risen this year.
3. Dark surfaces are popular in kitchens
The trend for dark surfaces has come about due to the shift towards two-tone kitchens. Dark coloured worktops can be complimented by lighter furniture and bright colour splashes adding luxury and elegance to your kitchen renovations. Kitchen designer's kitchen designs in the UK have incorporated dark surfaces into 2020 kitchen renovations. Colours like black and dark grey used in worktops, flooring and splashbacks add a welcoming atmosphere to your kitchen. Paired with textured woods, your kitchen will have a homely feel.
4. Downdraft extractors are trending
Downdraft extractor fans remove odours and vapours at their origin, directly from the stove and draw them down before they escape into the air. They work well in open plan kitchens where an extractor hood above a kitchen island can create a visual barrier breaking up the open plan feel. A downdraft extractor built into the hob lends itself to a minimal, professional style.
5. Structured simplicity works well in kitchens
Streamlined kitchens are trendy in kitchen designs in the UK. Minimalism creates a calming, clean kitchen space. You can achieve a contemporary look by choosing high quality materials that are functional in your kitchen designs. Integrated appliances and hidden away storage makes your kitchen flow well and won't make it look disjointed. Clever storage solutions and clear worktops create optimal functionality.
6. Two-toned kitchens are on trend
Two-toned kitchens are trending in 2020 and are expected to extend into 2021. The trend combines two colours in kitchen cabinetry. This kitchen design idea adds interest to the look of your kitchen. Deep, dark cabinet units contrast with lighter shades elsewhere adding depth to the space. This trend goes further than adding a contrasting colour on the walls. You can explore design elements from the cabinets to the worktops. You can experiment with wood textures, matt finishes and laminate. Using them in juxtaposition looks good aesthetically.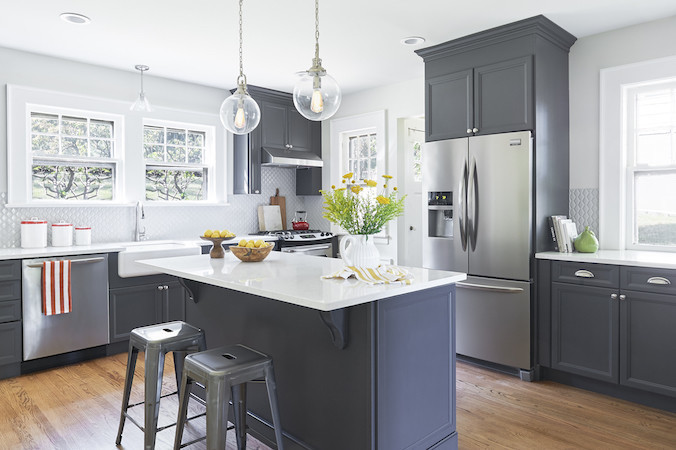 7. Smart storage is trendy
People are encouraged to declutter their kitchens and keep to a minimalist theme nowadays. In kitchens, a lot is needed from ingredients to cooking equipment or appliances for cooking meals. Concealed storage is a desired aesthetic in kitchens in kitchen designs in the UK in 2020 leading into 2021. Kitchen pantries will be well organised for optimal storage.
8. Green cabinetry and accessories are on trend
Over the last few years navy has been popular in kitchen design trends. It is expected to see more green in kitchens going into 2021 in the form of tiles and cabinetry in emerald and forest green. Speak to the kitchen designer at the kitchen company you are using about your colour preferences. Bold, dark colours have been popular in 2020 and 2021 will see more green colouring. Deep forest green can be complimented by smoky glass and soft metallics. Adding white, marble and brass through your lighting and worktops bounces off light, contrasting against the darker colours.
9. Blue tones will be seen in 2021 kitchens
Green is seen as a first choice, while navy blue is a big trend in colour choice for kitchen cabinets in 2020. Midnight blue has been popular in kitchen design trends in the UK in 2020. This trend will continue into 2021.
10. Calming, soft paint colour choices are popular in kitchens in 2020
Even though darker colours are popular in kitchen design ideas, there has been a trend for soft paint colour choices for kitchen walls and free-standing furniture. Gentle, soft colours have been used in kitchens in 2020. Bringing calming colours into your home in 2021 like dusty pink, soft grey and sage green will refresh the look of your kitchen.
11. Statement taps are trending in 2020 kitchens
Statement taps have been popular this year and they complete a kitchen. Brass, industrial style taps with unique handles and features make a statement in your kitchen. By adding similar finishes for your cabinetry there will be a flow of style throughout your kitchen.
12. Concealed appliances is a trend in 2020 kitchens
Going into 2021 there will be new technology and gadgets for your kitchen, but the trend is that they aren't necessarily visible. Discreet storage kitchen designs are expected to grow. Concealed appliances add a streamlined finish to your kitchen. Cabinetry can be used to conceal a fridge or dishwasher.
13. Living room furnishings and pendant lighting are seen in open plan kitchens
Open plan kitchens leading to a living room is a popular design element in kitchens nowadays. Lighting ideas include pendant lighting or the use of spotlights and downlights make the kitchen feel more like your living room.
14. Brass finishes are trending in kitchens
Brass tones are more and more popular in kitchen design in modern kitchens. Brass compliments on-trend blue and green cabinetry adding a sophisticated touch. Brass finishes add interest to a kitchen. Attractive taps, hinges and handles can add elegance to a kitchen. The finishing touches tie a theme together.
15. Modern twists on traditional styles are on trend
Traditional styles are still popular like shaker cabinetry but 2020 has seen traditional themes using a modern trending colour scheme in kitchens. Traditional designs have been chosen with a contemporary colour choice for a modern twist.
16. Industrial style features are on-trend in kitchens
Raw materials rich in tones and textures have been used in kitchens in 2020. Metallic amber, gold, rust, copper slate and Italian concrete can be seen in kitchens throughout the UK. This is an on-trend industrial look and feel.
17. Dining islands trend coming into 2021
Kitchen islands and breakfast bars make the perfect casual dining location as well as work station and storage area. Kitchen islands are expected to reach a new level with the formation of dining islands. The kitchen island has an extension island dining area so you get the benefits of an island and integrated dining. This will add to the entertainment value your dining island will offer.
18. Statement floors are on trend
When you floor makes a statement the rest of the kitchen should be minimal. This trend has been seen in 2020 kitchen designs in the UK. A modern kitchen can be finished with handle-free cabinets and open shelving and base units can have a white worktop contrasted by a floor that makes a statement. Statement tiles help with zoning areas of an open plan kitchen.
19. Broken plan kitchens are trending
You can speak to the kitchen designer at the kitchen company you are using regarding open plan kitchen ideas. In open plan kitchens you need to hide dirty pots and pans from your guests. If you want more privacy, a broken plan kitchen may work better for you. A broken plan kitchen takes an open plan design and adds a freestanding shelf unit or raised breakfast bar to create separation without adding a wall. This is more zone-orientated approach, a an evolution of open plan living and makes a more sociable experience for guests.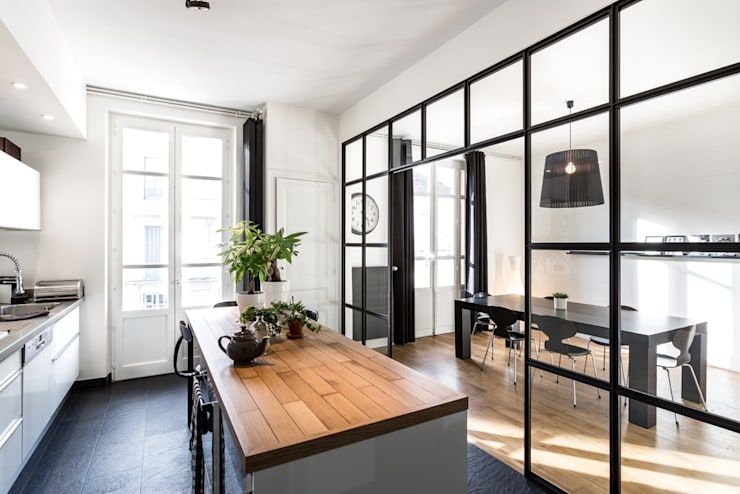 20. Grid tiling is on-trend in kitchens
Rectangular-shaped "metro" tiles have been popular in kitchens over the last few years. Square tiles placed in a grid formation with dark grout look modern and good in white. To add a glamorous touch, gold edging is used. Grid tiling will continue trending into 2021.
Kitchen design trends shape kitchens in the UK
The 20 modern kitchen design trends that shaped 2020 and are continuing into 2021 are important to take note of. Clever compact kitchen design, statement tapware, dark surfaces, two-toned kitchens, navy and green kitchens are seen as popular trends. They will benefit a kitchen on a functional and aesthetic level. Concealed appliances add to a minimalist theme. Kitchen islands are developing into dining islands and will continue to be popular kitchen design trends moving into 2021. Modern twists on traditional styled kitchens are on trend and statement floors are in fashion.
Broken plan kitchens will become more trendy and grid tiling will continue as a theme in 2021. Keeping abreast of modern kitchen design trends means you can incorporate some of the ideas into you own kitchen. With the help of a kitchen company and kitchen designer you will have expertise in kitchens at your fingertips and your dream, trendy and modern kitchen renovation will become a reality.