Investing in new kitchen cabinets adds good functionality to your kitchen and adds aesthetic value too. It will also help you get more organised and create extra storage space. We will explore 10 signs you should invest in kitchen cabinets as part of your home improvement plans. Getting your dream kitchen can be achieved by installing brand new kitchen cabinets. We recommend using a kitchen company to design and install your cabinetry. By visiting the kitchen company you will be able to see their kitchen catalogue. Kitchen cabinets design can be seen from modern style kitchen cabinets to traditional style kitchen cabinets. You can also add a kitchen cabinets organiser and different styles of cabinets such as a spice rack or drawer in your kitchen cabinet.
The different materials your kitchen cabinets can be made from
Firstly, you will need to decide if you want to refinish, resurface or completely replace your cabinets. You will need to choose which cabinet material you are going to use. Kitchen cabinets are majorly made from wood or wood-based materials. The most popular materials are hardwood, plywood, Medium Density Fibreboard (MDF), particleboard and wood veneer.
Choosing hardwood cabinets
Hardwood can be seen as the most popular choice of cabinet material and has been used for decades in kitchens. Hardwood is a natural material taken from trees meaning the wood can look different in texture, colour and grain. Hardwood is durable and easily repaired. The most popular woods include red oak, white oak, hickory, cherry, hard maple, birch, ash and pine. Hardwood is considered expensive but lasts many years.
Choosing plywood kitchen cabinets
Plywood kitchen cabinets are also popular. Plywood is made by laminating thin layers of wood on top of each other through a mixture of glue, heat and pressure. Plywood is a versatile material. It resists moisture unlike hardwood as a kitchen cabinet material. It is considered the favourable material for cabinet sides, backs, shelves and drawer bottoms. It's easy to repair. Plywood is also affordable.
Choosing particleboard kitchen cabinets
Particleboard is also known as Low Density Fibreboard (LDF) or chipboard which is an engineered wood material made by pressing recycled wood products like wood chips and sawmill shavings together forming sheets. Particleboard is sealed with a wood veneer for a better end look. It is considered very affordable. It is a good choice for kitchen cabinet and drawer interiors. It needs to be high quality to be durable.
Choosing Medium Density Fibreboard (MDF) kitchen cabinets
If you need quality of material between plywood and particleboard MDF is a good choice for your drawers and doors. MDF is comprised of smaller fibres than particleboard, making it a stronger material. It is made from recycled fibres, resin and wax pressed together under high pressure. It is considered strong and durable. It doesn't warp in temperature and moisture fluctuations. It can be stained or painted for a good aesthetic result.
Choosing wood veneer kitchen cabinets
Wood veneer is a thin layer of solid hardwood taken from a log. It has similar benefits to Harwood. Wood veneer is used together with other materials. Wood veneers are normally thinner than 2mm thick and are normally glued and pressed to either particleboard or MDF creating flat panels. You can get the benefits of aesthetics and durability of hardwood and save money by using plywood, particleboard or MDF to create the kitchen cabinets. Wood veneer is a cost-effective choice. It's a finish material and shouldn't be used for interiors.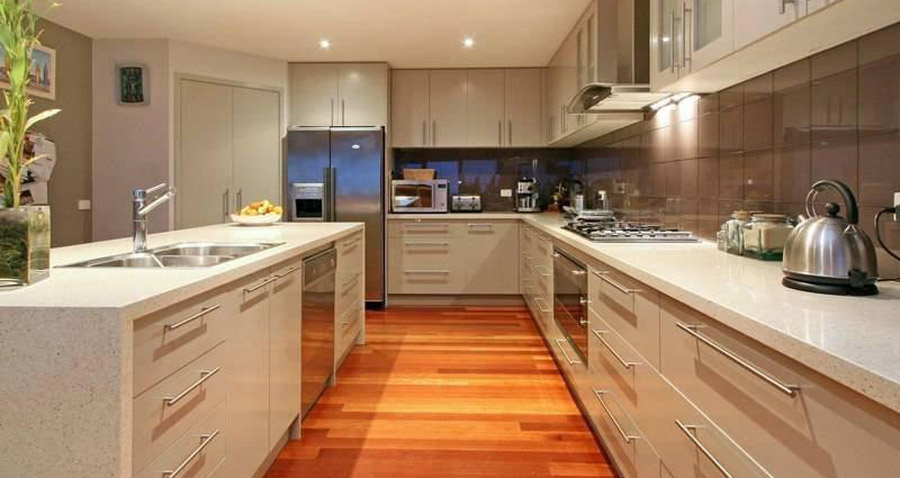 There is a lack of space in your kitchen
There are 10 signs you need to invest in your kitchen cabinets and the first sign relates to the space in your kitchen. If your worktops hold more items than your kitchen cabinets do you need to rethink your kitchen cabinets design. The kitchen company you use may provide the input of a kitchen designer that will design the cabinets in such a way that they make the best use of space. By adding extra cabinets you can create more storage space so that your worktops are clutter-free.
There is a lack of flow in your kitchen
Many homeowners complain about a lack of cabinet space or that there isn't enough storage capacity in their kitchen. This is because there isn't a good flow with your kitchen cabinets. The kitchen company may offer bespoke cabinetry that is made-to-measure and will be customised to fit perfectly in your kitchen space. The kitchen designer can adjust the height, the depth and the width of your kitchen cabinets so that there is a good flow in your kitchen.
The arrangement of your kitchen cabinets doesn't work well
Where your cabinets are situated in the kitchen space will determine how efficient the use of space is. Your kitchen cabinets should have ample storage but should also be designed in such a way that functionality is improved in your kitchen. For example, having a pasta pot across the room from where your stove is located is not a good use of space. Or having your glasses stored far away from the fridge won't serve you well either. So you need to organise the storage space within your cabinets. This can be planned by the kitchen designer.
If you are constantly cleaning your cabinets there is something wrong
If you are continuously wiping down your cabinets over and above cleaning crumbs, spills and so forth it is likely time for an upgrade. For example, stainless-steel lined cabinets are a cleaning nightmare with fingerprint marks appearing on them from family members. You may want to upgrade your kitchen cabinets to treated wood for an easier cleaning regime in your kitchen overall.
If your kitchen cabinets are making you feel inconvenienced there is an issue
If your hands are full and it's not easy to open your cabinets too there may be an issue. Your cabinets should be opening and closing easily with no stickiness. Nowadays there are also lots of hardware options and even smart features that make opening your cabinets easier.
Outdated décor in your kitchen will decrease its aesthetic value
If your kitchen looks like something from the 1990s it's time to modernise your cabinets. You could choose wide shaker cabinets or invest in a colour scheme that's modern and elegant with charcoal coloured kitchen cabinets. Refresh an old look by adding bursts of colour to your cabinets or appliances that modernise the look and feel of your kitchen.
If your cabinets have a lack of options for storage space and limited organisation you need to upgrade them
Cabinets are no longer simply cupboards to store dishes, cups and glasses. Nowadays there are features like mini-wine racks, a modern version of a Lazy Suzan, oversized drawers, glass racks for long-stemmed glasses, glass display cabinets, in-built spice racks, drawer organisers and bigger drawers for baking trays. You no longer have to squeeze your pots and pans and appliances as well as spices into areas that they don't fit into. The kitchen company can customise your cabinets so your kitchen cabinet organiser provides proper storage capacity and flow in your kitchen.
If there is a lack of durability in your kitchen cabinets it's time to upgrade them
A top reason why homeowners upgrade their kitchen cabinets is because their current ones are damaged from wear and tear. Issues can arise with creaky, rusted hinges to fading on the exterior. They could look outdated and bring down the appearance of your kitchen if the rest of the space is more modern. When it comes to choosing your new cabinetry think about the hinge, door, drawers and finish quality so you have the best looking and well-functioning kitchen at the end of the day.
If your cabinets lack interesting features it's time to invest in new ones
Your cabinets can make a statement in your kitchen and get compliments from your guests. With brand new cabinets you can incorporate unique hidden features like a built-in fridge disguised as cabinetry.
If your kitchen has too much clutter you need new cabinets
Particularly if you have a small kitchen, big, bulky cabinets take over. To streamline the area, get rid of the clutter and add things like tall cabinetry with centrepiece backsplashes. Incorporating contrasting hardware, gives an elegant, grand atmosphere to your kitchen.
Tying your kitchen together by investing in your kitchen cabinets
You can choose your cabinet material and get bespoke kitchen cabinets made by the kitchen company you are using or add ready-made cabinets to your kitchen. You could resurface, finish, or add new doors to your cabinets. We have explored 10 signs that it's time to invest in new kitchen cabinets. It will add storage space, de-clutter your worktops, modernise the area, add functional and aesthetic value, and overall improve the flow of your kitchen. By using a kitchen company you will find out more about the cabinetry that they offer from bespoke to ready-made units. You will be well on your way to getting your dream kitchen finished off with elegant kitchen cabinets.