Appliances do most of the work in the kitchen. Altogether they add up to approximately 9% of your kitchen budget. When choosing appliances you will need to consider their features, performance, and how they look. We recommend visiting a kitchen company showroom in Scotland. Speak to the kitchen designer about kitchen design and home improvement ideas when choosing the best appliances for your kitchen. White appliances are still the most popular followed by black. Stainless steel appliances are growing in popularity. The kitchen designer at the kitchen company you are using will have a variety of brands and colours of appliances to recommend to you. Have a budget in mind beforehand so you know how much you can spend. Choosing critical appliances for your kitchen is crucial for functionality. How to choose several of the main appliances will be discussed, namely choosing an oven, fridge, sink, and dishwasher. 
Your kitchen designer will design your kitchen around appliance placement
Your kitchen designer will not only help you choose the main appliances but will help you position them in your kitchen so that there is a flow from work station to work station. The "work triangle" will be used. The main tasks in a kitchen take place between the cooktop, sink and fridge. Drawing three imaginary lines between them at an optimal distance makes up the "work triangle" so you don't have to walk far between them. The dishwasher should be placed near the sink for transferring dishes and being near plumbing points. Your kitchen designer will help you orientate between work areas in your kitchen.
How to choose an oven
The range or stove, a single unit with a cooktop on top and oven below is an affordable choice and it saves space. Nowadays kitchen design allows for cooks to choose commercial stoves with six or eight burners, not four with basting and grilling functions as well as built-in warming drawers. Commercial stoves require ventilation systems, non-combustible wall and floor areas. The kitchen designer will tell you that other homeowners like the new modular cooktops where you can add burners, downdrafts, griddles, units for deep frying and steaming, woks and grills. These are a few examples of what is available on the market.
Choosing the type of oven you want
A modular oven is part of a current trend. Separate wall ovens and cooktops provide more work stations. You will need to choose between a gas and electric oven. More serious cooks prefer gas as it takes quicker to cook with no heating of the stove plate, it's precise and costs less in energy bills. Others prefer the even cooking of eclectic heat and the electric ovens are more affordable. You can also get a dual fuel range with a gas cooktop and burners with an electric oven. Convection ovens that are electric use heated air cooking food twice as fast as conventional ovens. You could even get a combination microwave and convection oven which is cheaper and smaller. A backsplash will protect the wall behind your oven from grease and spraying oil. The kitchen company you are using in Scotland will have a catalogue of ovens and prices available for you.
Choosing a range hood or down-draft ventilation
An updraft range hood funnels cooking grease and any vapour into one area and the fan draws it through a duct outside. Filters will catch grease and odours. Range hoods that come in copper, stainless steel are good options. They are easy to clean. Or you could choose down-draft ventilation which is normally part of a cooktop or grill with a fan and duct feature.
How to choose a fridge and freezer
Nowadays fridge-freezer units offer convenience and conserves more energy than they did years ago. You could opt for the basic 18 cubic foot freezer-on-top model that comes with wire shelves. However, the most popular style offers 20 cubic feet of storage space, glass shelving, a meat keeping section with temperature control, vegetable crisper with humidity control option, an ice-maker and door bins.
Some people choose the models with the freezer beneath the fridge section and a 22 cubic foot storage space. Side by side models is easy to organise if you buy food in bulk. Look for pull-out and roll-out bins and baskets for ease of use. You may want a separate bar fridge for your soft drinks with a wine cooling compartment for entertaining. The kitchen designer will have other home improvement tips on the fridge's interior layout that will be useful. The kitchen design will leave ample space for each of your bigger appliances and free movement between them.
How to choose a sink and garbage disposal appliance unit
You will learn from the kitchen designer at the kitchen company that you are using that certain areas of your kitchen will take up more budget. Approximately 8% of your budget will go towards the kitchen fixtures and fittings, predominantly on the sinks and faucets. The size and shape of your sink as well as its depth is important. The kitchen designer will have kitchen design ideas regarding your choice of sink. Bargain sinks will be six or seven inches deep while if you wash big pairs 8-10 inches is preferable. Popular home improvement ideas regarding sinks is to choose between the merits of the different options of the single, large rectangle-shaped basin, the double-bowl sink with one bowl smaller and with a garbage disposer. You can also get three-bowl sinks. Namely two larger bowls surrounding a middle smaller bowl with garbage disposer.
Choosing a sink material
Once you have chosen the size and shape of your sink you need to choose its material. You can choose from stainless steel, colourful enamel on cast iron, solid surface or quartz composite. Stainless steel has been popular since the 1950s and is stain resistant. Enamel-on-cast-iron sinks resemble enamel on steel. They are more durable. The weight of the cast-iron sink bowl needs strong worktops. Enamel comes in a variety of colours including white. It has a glass type surface meaning it's easy to clean. Solid-surfacing sinks have no rims and are built into the worktop. It is elegant, easy to clean with a good colour selection. Quartz composite sinks are rather new to the market with good colour selection available. They are stain and scratch resistant.
Garbage disposals are considered a home improvement idea worth investing in. They can be operated by a continuous feed, by an on/off switch under the sink or fixed to the wall or by batch feed- activated once the stopper is securely closed and turned. Continuous feed units are easier to get hold of and less expensive than batch feed models.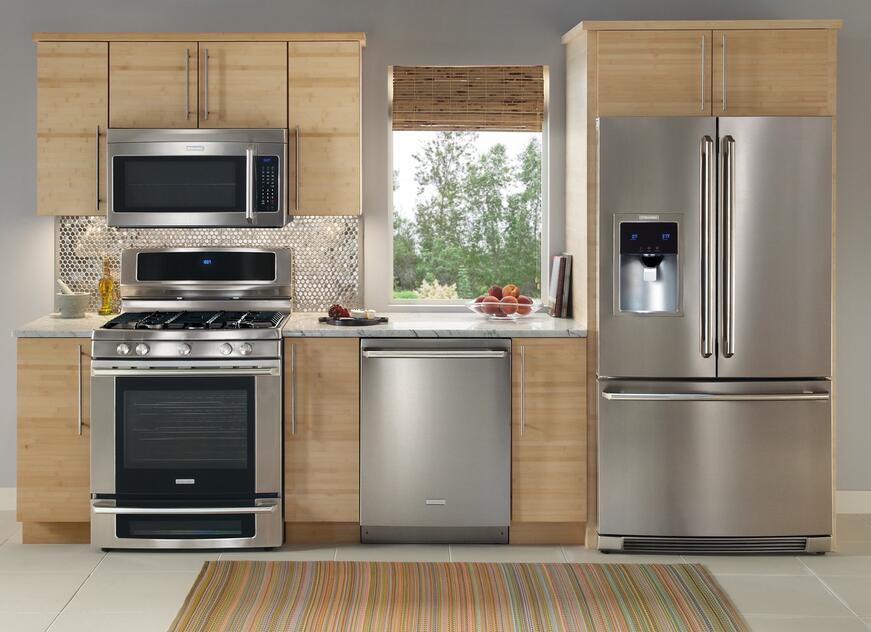 How to choose a dishwasher
The market is led by high-end stainless steel European models. Dishwashers are quiet when on thanks to extra insulation. They are more energy efficient than in years gone by. Your kitchen designer from the kitchen company you are using in Scotland will recommend investing in a dishwasher as a home improvement idea as it saves time washing dishes and gives you more free time to spend with your family. Today's dishwashers use less kilowatt-hours per wash cycle, use less water and have an air-dry option that does not need heat to work. To cut energy costs even more, choose a dishwasher with internal water heating. This will increase temperatures for grease dissolving. In this way your dishwasher won't place extra demands on your home's hot water heating system.
Choosing a dishwasher suited to your kitchen
Portable dishwashers are available, however most homeowners choose built-in models that can be concealed behind your cabinetry panels. Top of the range features like electronic touch pad controls, stainless steel interiors, and machines with special wash cycled suited to crystal, china and pots are good to look out for. Cheaper machines use push buttons or dials. These models usually offer a range of three cycles, from light to normal to heavy.
Choosing the right appliances will benefit your kitchen
Four of the main appliances have been discussed. With the kitchen designer on board from the kitchen company you have visited in Scotland and with the home improvement ideas provided above with appliance recommendations, you are on your way to having a well-functioning, aesthetically pleasing kitchen! The kitchen designer will help you with kitchen design and layout the appliances in your kitchen so that there is a flow from one work station to the next. You will need to choose your oven. You can choose from gas or electric or you can invest in a dual-fuel range which is a gas cooktop above an electric oven. Some people prefer gas as it has a quicker cook-time while others like the evenness of cooking in an electric oven. You will need a backsplash and a range hood or down-draft ventilation system.
You can choose a combined fridge-freezer at various sizes with different interiors or 2 separate units depending on space available and budget. You will need to choose a sink material and size with an accompanying garbage disposal unit for convenience. You will also need to choose a dishwasher that can be high-tech and touch screen operated or dial and push-button operated. Look for an energy-efficient one to save on your energy bills. Overall with the assistance of the kitchen company's kitchen designer and these pointers you will have a well-organised, elegant kitchen after installing your key appliances.