Having a small kitchen or galley kitchen means your space is smaller but there are ways to make the best use of your space. We recommend visiting a kitchen renovation company in the Scotland area. If they have a kitchen designer on hand they will be able to discuss ideas that you can use in your small kitchen to make it functionally and aesthetically appealing. The kitchen company will have a catalogue available for you to browse small kitchen home improvement ideas. We will provide you with 10 ways that will help make your small kitchen feel bigger.
1. Make the ceiling the focal point to make a small kitchen feel bigger
Do you have the benefit of high ceilings in your kitchen? If you do, build up the cabinetry and incorporate some decorative spaces. Open shelving works well as kitchen storage too. You can also display plants, plates or artwork and prints on your open shelving. Draw the attention of the eye up with mouldings, a painted ceiling and eye-catching lighting fixtures. Adding style in an upwards fashion makes a statement and doesn't use valuable floor space. The kitchen designer at the kitchen renovation company you are using will advise on cabinetry options. They may offer bespoke customised cabinetry to fit in perfectly in your small area. If your kitchen has a low ceiling you can still make use of the same concepts when it involves vertical storage. You can also choose to paint your low ceiling in a lighter colour as a feature.
2. Make the most of kitchen storage opportunities
In the design phase of a small kitchen you need to think about the use of overall space and how each cabinet will be utilised. You can use add-ons in the cabinet interiors to make them more efficient and more easily organised for the cook. This will make the flow of the kitchen better overall. You can use the back of doors to hang things, you can put cup hooks beneath shelves and high cabinets for storage. If your kitchen designer from the kitchen company you are using is designing bespoke cabinetry for you, don't forget overlooked small spaces like cabinet kickboards. This is the area below the cabinets where you can make hidden, pull-out drawers for your baking trays. The area above the doors can be used for clever storage spaces.
3. Make use of lighting to make a small kitchen feel bigger
Planning your kitchen lighting can make a small kitchen feel bigger. You will need ambient lighting and task lighting. If the kitchen company's kitchen designer gives you some input they may say installing decorative and spot lighting will make the kitchen feel open and well planned. You need to think about what you are using the kitchen for and what type of light you will need. Metallic pendant lights also work well in a small kitchen as they reflect light and make the space appear bigger. The colour palette used in your finishes will impact the room. Darker coloured cabinets, worktops and walls will mean you need stronger wattage lights.
4. Try to limit your kitchen's colour palette choices
Colour selection is a personal choice. We recommend choosing one to two colours to make your small kitchen feel bigger. This will make your kitchen look more coordinated too. Speak to the kitchen company's kitchen designer about colour options. You may decide to use different shades of the same colour to create texture. It's best to avoid big areas of contrasting walls. You want the room to look like a unit. Browse the kitchen company's paint catalogue for colour options and ideas.
5. De-clutter your kitchen to create more space
The fewer things you have to store, the more organised your kitchen will be. There will also be better flow and it will be easier to use. Don't keep that extra crepe pan or outdated microwave. Rather de-clutter your space and buy a new high-tech microwave and make space by getting rid of unwanted kitchen items. Organise your appliances and crockery so every item has its place. Don't buy new appliances until you have made space for them. The kitchen renovation company's kitchen designer will advise you on the best areas to place your appliances. They will also likely have a price list of appliances they can source for you and install too.
6. Make use of light-reflecting decor and accessories
The kitchen designer from the kitchen renovation company you are using will design the layout of your kitchen well. They will also need to decorate your kitchen. Smaller décor touches add to a kitchen. Choose accessories that bounce light throughout the room. Metallics and metallic décor will work well. Plant pots, picture frames, pans made from copper, utensils made from metallic materials will add life to your kitchen and reflect the light making it feel bigger than it is. White décor also has a similar effect if you don't like metallics.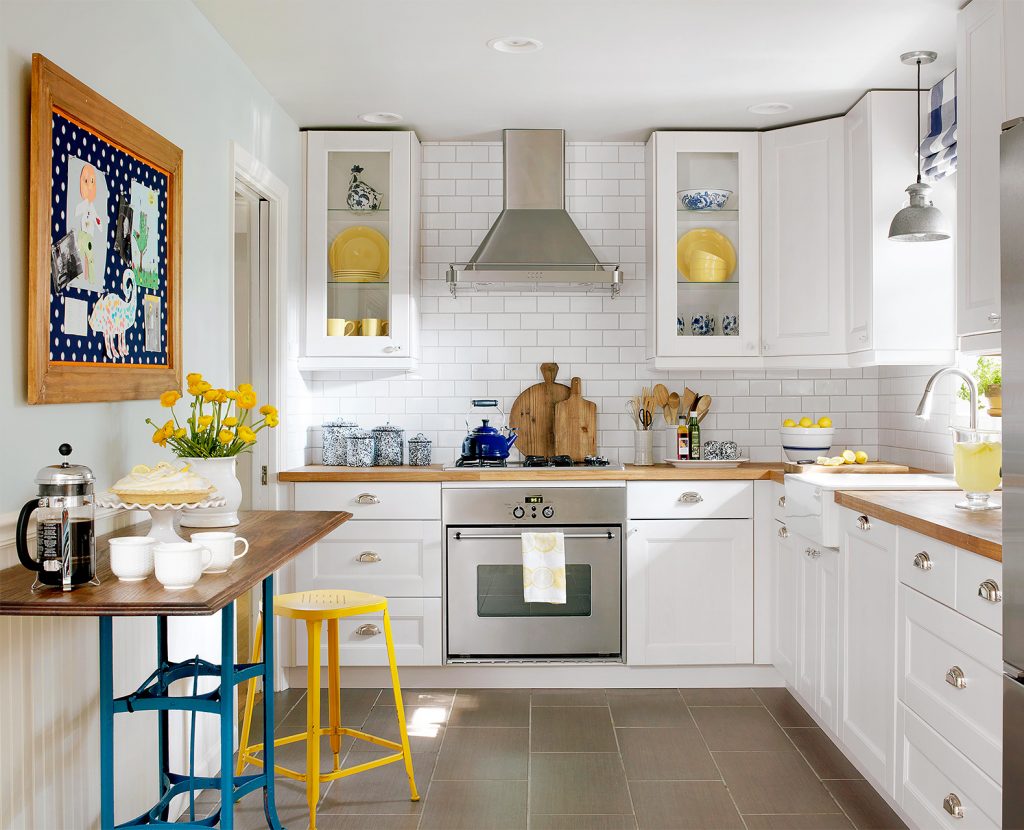 7. Choose an all-white colour palette
White is known to reflect light and will instantly make a small kitchen feel bigger. You can paint your cabinetry white alongside the walls or similar shades of white. It's a wise idea to paint any bulky radiators white to conceal them. To add some contrast choose a granite or solid wood worktop. In decorating add some colour in your accessories and décor. The kitchen company you are using will have examples of all-white themed kitchens and you can browse options to see what you would like in your small kitchen.
8. Well-thought-out flooring choices make a small kitchen feel bigger
If you have a narrow corridor-like galley kitchen, floorboards or patterned flooring running parallel with the length of your kitchen make it feel longer than it is. If you would like to make your kitchen feel wider, use the opposite tactic- use flooring that runs along the width of the room. If you are choosing tiles for your kitchen, get the kitchen company's installation team to place them diagonally to make the room feel wider.
9. Invest in slimmed-down kitchen furniture
When you are trying to make a small kitchen feel bigger choose furniture that has a small footprint and is slimline. Do not buy furniture with bulky legs or thick outlines that will add bulk to the small area. Invest in streamlined chairs such as bar stools that may fit around a kitchen island.
10. Create a kitchen island to make your small kitchen feel bigger
Ask the kitchen company's kitchen designer if they can incorporate a small kitchen island into your kitchen to add a seating area for family and friends to sit while you cook a meal. Kitchen islands are popular in kitchens nowadays. It creates an extra worktop, storage space and eating area. A small island surrounded by an L-shaped worktop would work well. Having this area for the children is nice too. They can sit at the kitchen island after school and do their homework while you prepare them a snack. It creates a sociable space to entertain friends too depending on its size.
Your kitchen will feel bigger with the help of this 10 ultimate steps guide
You can have the kitchen of your dreams by making use of our top 10 ultimate ways to make your small kitchen feel bigger. We recommend you use a kitchen company and their kitchen designer to plan ways to make the best use of your space from making the ceiling the focal point by building the cabinetry upwards and adding decorative open shelving you aren't using up valuable floor space. You can also be creative with storage space. You can hang things on the backs of doors and add cup hooks below shelves. Choosing adequate lighting is critical too. You will need ambient lighting and task lighting. De-cluttering your kitchen gets rid of old unwanted items and outdated appliances making room for new ones. The kitchen company can advise on the best appliances for your kitchen and the kitchen designer will show you where best to position the appliances.
Also, making use of light-reflecting décor and accessories and choosing an all-white colour scheme adds a sense of space to your kitchen. Choosing appropriate flooring makes a difference to the feeling of space in your kitchen and the way the installation team places it will make the room feel bigger, like diagonally for tiles. Choosing slimmed-down kitchen furniture means there won't be bulky furniture in the way of the cook and their family members moving throughout the kitchen. In creating a kitchen island you bring an eating area into your kitchen, additional workspace from the extra worktop, and storage space in the cabinetry unit below the worktop. Overall with the help of the kitchen renovation company and by using this guide, you will help your smaller kitchen feel bigger. Your kitchen will be organised, functional, and look welcoming.