Making a choice between a modern and traditional kitchen style is important as the kitchen is known as the heart of the home! These two styles of kitchens have distinct differences with some homeowners preferring a modern style and others a traditional style. Kitchen renovations in Scotland incorporating either of these themes are popular. We recommend visiting a kitchen company in the Scotland area to browse their various kitchen styles and finishes. The kitchen company will have a showroom consultant who can show you their catalogue as well as likely have a kitchen designer who will carry out all the design work according to your aesthetic and functional needs. The kitchen designer will have various home improvement ideas according to the modern or traditional kitchen style you choose.
Modern and traditional kitchens make use of different cabinetry and colour schemes to keep up with their themes. The colour scheme used in these two styles differs too with modern colour patterns being lighter. These two styles also use different materials for worktops depending on the theme of the style. Lighting in these two styles of kitchen varies with traditional lighting more elaborate and modern lighting more simple and easy to use. Flooring in these two styles of kitchens also varies.
What is a traditional style kitchen?
Traditional style kitchens are decorated in muted, pale colour tones. Traditional kitchens are known to be homely and welcoming, more so that modern kitchens. Design and heritage are seen in traditional kitchens. Simplistic shaker cabinet doors are common in traditional kitchen renovations in Scotland. Traditional kitchens are designed to last, they don't look out of place in years gone by and they aim to look trendy in years to come.
Appliances used in a traditional kitchen
Traditional kitchens are usually closed off and not open plan. The appliances in this style of kitchen are normally stand-alone items laid out on worktops instead of built-in or hidden units. This makes the kitchen feel well-used and gives it the homely look and feel.
What is a modern style kitchen?
Modern kitchens are characterised by sleek, bold design and are also a popular choice in kitchen renovations in Scotland. Different to the more reserved colour palette seen in traditional kitchens, modern kitchens are bolder using striking colours in both décor and the choice of colour in appliances.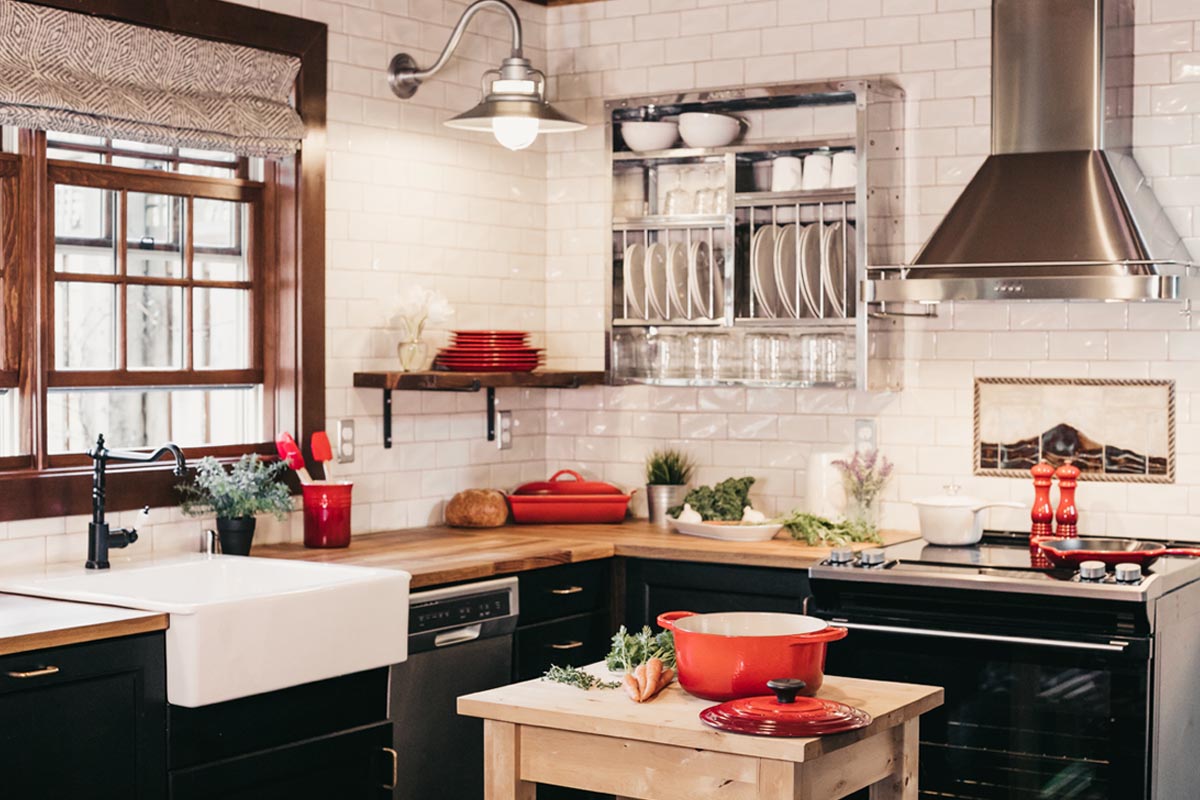 Appliances used in a modern kitchen
Functionality in modern kitchens is a key factor. Your kitchen designer will want to make the best use of the space available using up-to-date technology in the appliances affecting the layout of the room. Built-in as well as smart appliances are commonplace. The larger white appliances like fridges and freezers to smaller wine coolers and coffee machines are the latest technology on the market. The kitchen company showroom consultant can show you a list of appliances that they have available. With certain appliances being in-built a minimalist theme develops with an uncluttered feel.
The theme of kitchen cabinets in traditional kitchens
Some people say kitchen cabinets are the foundation of a kitchen because without them the kitchen would feel empty and nothing would feel in place. Traditional kitchens are warm and have a classic feel with elements of English and French décor. Traditional kitchen cabinets look thicker in keeping with vintage country designs. Traditional style kitchens are elegant and homey.
Colour palette used for traditional kitchen cabinets
There are a variety of shades typically used in traditional kitchen renovations on wooden cabinets varying from light to dark. Depending on how rustic you want your cabinets to look, they will have a more worn down with more wood grain look. A matte finish is popular in traditional style furniture. Some homeowners choose redder colours with a more polished end look, which is bolder than matte brown.
The theme of kitchen cabinets in modern kitchens
Modern kitchen cabinets are more sleek and compact. Modern themes are characterised by efficiency. This style is sophisticated, it makes a statement and has an eye-catching look. Popular colours are white and grey cabinets as well as black, white and solid wood worktops. Appliances are state of the art and unique lighting adds a high-tech feel.
Colour palette used for modern kitchen cabinets
In comparison to darker, woodier colours in traditional kitchens, modern kitchens are lighter in colour showing off whites, greys, metallic colours (silver, gold, bronze) and even colour combinations of a light, neutral shade and bright colours. The colour palette in modern kitchens is more varied with traditional kitchens having more brown shades. Your kitchen designer will advise on a plain style or more artistic style with bright, bold colours in your colour scheme. If you are deciding between traditional and modern styles think about which look appeals to you more and which will fit in best with the décor you like.
Choosing your traditional worktop material
Popular choices in kitchen renovations and in choosing your worktop material include natural stone, solid wood, quartz with its wide range of colours and textures. White marble or quartz reflects light and will make small-sized kitchen look larger. Granite and solid wood have deeper colours with grain patterns that will highlight the elegance of your worktop.
Choosing your modern worktop material
Modern worktops are usually made of MDF covered in laminate or granite, quartz or even solid hardwood worktops are popular too. A clean white laminated worktop is popular in kitchen renovations in Scotland. Improving or renovating your worktops according to a modern style is a worthwhile home improvement idea and adds value to your kitchen overall. Worktops can make a statement in your kitchen and should compliment your cabinetry material and colouring.
Choosing lighting for your traditional kitchen
Choosing lighting fixtures is based on style and function. The lighting is to bring light to your room and have an aesthetic appeal. Traditional lighting has a timeless style. Traditional lighting is usually complicated, ornate and involves meticulous fixture designs.
Choosing lighting for your modern kitchen
This style is known for clean, horizontal lines, simple curves as well as simple shapes. It has a functional purpose. Fixtures are natural, unpainted wood and metal.
What are the differences between traditional and modern lighting?
Traditional lighting is elaborate in look and construction while modern lighting fixtures are simple and clean. Traditional lighting is seen to be more complex with beautiful and intricately constructed fixtures placed in your home. They make a statement.
Modern lighting fixtures are simpler to use. Your kitchen will look clean and functional and you can add a striking painting to the room.
Traditional kitchen design ideas and flooring
With a focus on being elegant and warm, design trends feature graceful lines. Tiles in the kitchen give warmth and add an inviting appeal. Colours like beige, cream or ivory add to the room. The flooring is usually wood with a rug with accented colours. Marble and tile floors are also used in traditional kitchens. The choice of tiling in a traditional and modern kitchen is important. Traditional tiles can be bolder with mosaic patterns an option.
Modern kitchen design ideas and flooring
This style of kitchen is designed with current trends in mind. Clean lines, open space and minimal clutter are part of this theme. Modern kitchens are airy, light and comfortable with ample natural light streaming into the kitchen. Tiles used are neutral in colours from cream to white and beige. Furnishings include smooth surfaces made from stainless steel, glass, chrome or light coloured woods.
Modern style kitchens show clean lines, open space and minimalism. Modern kitchens are light, airy and comfortable with lots of natural light flowing in. Flooring in modern kitchens has a minimalistic theme. Floors are usually wood, stone, laminated or cement and in most cases they are left bare.
Both traditional and modern kitchens have their aesthetic and functional benefits
Whether you choose a traditional style or modern style kitchen both have their benefits. We believe with the help of the kitchen company you are going to use and their kitchen designer you will be able to choose the style best suited to your needs. The kitchen designer will then walk you through the various elements of design to consider to get the kitchen you have always dreamed of. They will have various home improvement and décor ideas to finish off the theme you have chosen.
With the help of the kitchen designer you will choose your cabinetry material to fit in with a traditional or modern kitchen style. The colour scheme you will use in your kitchen will be decided upon with input from the kitchen designer. You will also browse the kitchen company's catalogue to see which worktop material you would like to use. The kitchen designer will recommend a worktop material that will compliment your cabinetry. You will decide on lighting with traditional lighting more ornate and decorative and modern lighting more simple and easy to use. The flooring material will be decided upon too to fit in with your kitchen style finishing off your kitchen space. By using a kitchen company and kitchen designer they will guide the process for you and give expert advice so you can get the traditional or modern kitchen of your dreams!