The kitchen isn't only for meal preparation. It's an area where children can do their homework while their mother prepares lunch or where meals can be enjoyed with friends at your kitchen island or dining table in an open plan kitchen. It's a space with lots of functions to fulfill particularly in a large family. We recommend visiting a kitchen company in the Scotland area to speak to the showroom consultant about your kitchen design ideas for your large showroom. They may have a kitchen designer on their team that can do the design work according to your preferences so you and your large family can enjoy a highly functional well-laid-out large kitchen. There are also 8 tips discussed below for kitchen design and layouts for large families.
1. Figure out the purpose of the kitchen
A good idea is to have a family meeting where each family member can mention how they would like the new kitchen to look and what they would like to do in the kitchen. You should consider the ages of your children or grandparents and how many people will be in the kitchen at any given time. Make this the start point when considering your layout and kitchen design. Think about how many people are involved in meal preparation. Consider if the family will eat in the kitchen too. The children may use the kitchen to do their homework. Consider if there will be a craft space and general administration area. Your pets may be fed and sleep in your kitchen. In terms of appliances, think about which appliances will be needed and other household items. In answering these questions you will get a better sense of the needs of your family in your large kitchen. You can have this meeting and bring the information gathered to the kitchen company you are going to use in Scotland. The kitchen designer will then have a better sense of your aesthetic and functional needs.
2. Choose hard-wearing worktops
It is important to choose easy to clean and hard-wearing worktops or surfaces that can handle the knocks and bumps of a large family using the kitchen. Speak to your kitchen designer about the options. Quartz and marble worktops are durable and look good. Solid wood worktops work well too made from a choice of Beech, Cherry, Iroko, Maple, Oak, Sapele, Teak, Walnut or Wenge. Or MDF covered in laminate is a cheaper option that's easy to maintain.
3. Ensure there is ample storage
It's a good idea to de-clutter your kitchen and get rid of items that are stored in the cabinets and never get used. Kitchen designs take into account cabinetry design. Design your cabinetry according to your storage needs. You could get bespoke cabinetry made up by the kitchen company you are using in the Scotland area. They will measure your area and consider your kitchen design needs. You can choose from Maple, Oak, Birch, Hickory and Cherry for your cabinetry. These woods have different colours and grains so you can browse the kitchen company's catalogue for your favourite choice.
4. Create a kitchen island
The kitchen designer at the kitchen company you are using in Scotland will tell you that kitchen islands are popular in kitchens in Scotland nowadays. With the trend towards open-plan living, kitchen islands break up the flow of a large space and create a central area for your kitchen designer to design around. A well-functioning kitchen island should look aesthetically pleasing but also provide a storage rea, meal preparation zone and dining area. You may decide to incorporate a breakfast bar into the island with enough space under the worktop to entertain seated guests.
You need to consider the dimensions of your kitchen island and think about where you want to place it within your kitchen. A kitchen island is a worthwhile design idea. You will need space all around it for ease of movement, particularly when your kitchen gets busy. You may even want two individual symmetrical islands if there's enough space. You can speak to the kitchen designer you are using at the kitchen company to proportion the island to match your fittings, particularly your bespoke cabinetry. You should make use of the same worktop material to create uniformity with the rest of your kitchen. If you want your kitchen island to stand out try painting it a different colour.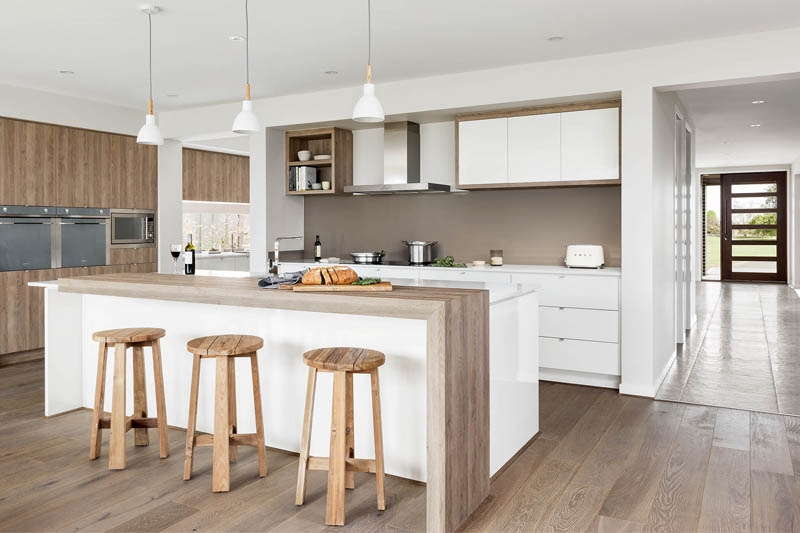 5. Create enough room to move around your kitchen
Leave room for foot traffic for the adults and your children to move around the room. The flow must be functional and without restriction. It is also necessary for safety reasons, especially when there is a large family with young children. If the cook is preparing vegetables in boiling water, her children should be able to run by freely and not interfere with the cooking. A "work triangle" or stove, fridge and sink being well-positioned ensures easy movement in the kitchen. This forms a triangle and makes it easier for the cook to move from one cooking zone to the next without moving too far.
6. Creating a walk-in pantry with adjustable pantry shelves
A design idea that is popular in Scotland is a pantry. Pantries store non-perishable goods, extra appliances and baking goods. Ideally, they are 5 by 5 feet if they are walk-in pantries lined with U-shaped open shelves or even cabinets that have a worktop or some cases not. Having adjustable shelves makes it a more flexible option. Bottom shelves should be 16-18 inches deep and should be spaced at about 18-24 inches apart for holding bigger items. Position your shelves at eye level 12- 14 inches deep and spaced 14- 16 inches apart to store cereal boxes and canisters. For holding your spices and cans, the shelf may need to be more than 6 inches from front to back. When you plan for an item, add 2 inches of vertical space so when you access it you can tip or slide it out easily.
Plywood is the popular material for shelves and edges can be finished in veneer banding or wood trim. If you hate seeing all the household goods in your pantry cabinets work best. You can light your pantry with a ceiling fitting like a pendant or rechargeable puck lights fitted with motion sensors. Organise your pantry well by storing small goods in organisers like a lazy Susan or tiered shelving. Keep your pantry cool and dry. You could even install a small dehumidifier or a moisture absorber.
7. Create an open-plan kitchen
If you decide against a kitchen island you could create an open plan kitchen. It would be a multi-purpose room rather than a separate kitchen. You can create an open plan kitchen by knocking down the wall that goes towards the adjacent room, living area or dining room. This will mean you can combine your living area or dining room with your kitchen for a seamless experience. This kitchen design idea works well and is used throughout Scotland. Speak to the kitchen designer at the kitchen company you are using in the Scotland area about turning your kitchen into an open plan area. They will have lots of ideas of style and colour choices to suit the open plan flow.
8. Add a chalkboard to your large kitchen
Chalkboards can be enjoyed by the whole family. This design idea works well as a grocery list, or to-do list. You can also write down your favourite quote or play a game of noughts and crosses on the chalkboard before dinner. You can also add a magnetic board to put up bills, notes, time-tables and other useful family information. Chalkboards are available in a selection of shapes and colours so you can choose one that suits your kitchen best. You could even use an entire wall and paint it with chalkboard paint and use that as your chalkboard. This is a popular design idea in Scotland.
Tying together your design ideas for your large family and kitchen
You need to ascertain the needs and uses of your kitchen first by having a family meeting where each family member describes how they want the kitchen to look and what they will use it for. Then you can take this information to the kitchen company you are using in Scotland and can speak to their kitchen designer regarding kitchen design ideas. By using these 8 tips you will create the perfect layout for your large family's kitchen. You must choose easy to clean, hard-wearing worktop materials. You need to create ample storage space. You may choose to create a kitchen island creating a workspace, meal area, and storage area. You will need an area to move about your kitchen regarding the floor space. Creating a walk-in pantry creates excellent storage space and keeps things organised. You may decide to change your kitchen to an open plan design if you don't choose a kitchen island. Open-plan kitchens work well and combine a living/dining area with the kitchen. Adding a chalkboard on the wall creates an excellent space for grocery lists, to-do lists, and a game of noughts and crosses. A magnetic board also allows you to put up bills, time-tables, and other family information. With the help of a kitchen company and their designer and in using these design tips you will create the perfect kitchen for you and your large family.