The most beautiful kitchens are a sum of their parts. Where form and function mix well and where colour palettes play off natural light and small décor details are just as important as big appliances is where kitchens really come together. When all the details work harmoniously, a kitchen is known as the hub of the home. What adds most to the success of a kitchen are its worktops and cabinets. These two areas take up most of the space in the room and provide aesthetic value. You need to figure out what makes a winning duo.
We recommend visiting a kitchen showroom at a kitchen company in Scotland and discussing your worktop and cabinetry pairing ideas for your kitchen. They will have a catalogue of finished kitchens with home improvement ideas relating to pairing and style ideas. Nine winning worktop and cabinet combinations will be discussed to get the eye-catching kitchen you have always dreamed of! Worktops and cabinets really contribute to the success of a kitchen aesthetically and on a functional level.
Create a budget for your worktops and cabinetry
You need to set aside a budget for your worktops and cabinetry. Worktop materials can be more expensive such as granite and marble worktops and cabinetry can be more expensive if you go with solid wood. Allocate an amount to the worktops and cabinetry. It is a good investment to get a durable and more pricey worktop such as granite. Solid wood cabinetry is also durable and aesthetically pleasing. If you have a budget in mind you can discuss it with your kitchen designer at the kitchen company you are using in Scotland. Then you won't go over-budget and they will also have various home improvement ideas when it comes to worktops and cabinetry. Nine ways to pair your worktops and cabinetry will be discussed below.
Try pairing grey and wood
Oak wood cabinetry pairs well with quartzite worktops. In a sun-filled kitchen durable materials make for a good combination. White oak timber cabinetry pairs really well with quartzite worktops. It's a neutral palette playing off the natural light and if you have a door leading off your kitchen or window leading onto a lush green garden, the neutral palette provides a perfect backdrop to the garden's greenery. A ceramic tile backsplash would match this theme with a stained concrete floor. Hanging downlights would suit this kitchen.
2. Try pairing rosemary and white
You can keep the original footprint of your kitchen but paint the cabinetry during the kitchen renovations. You can speak to the kitchen company's kitchen designer in Scotland, that you are using regarding colour schemes as a home improvement idea. Choosing two-toned cabinetry in rosemary works well with white worktops. You can create a customised green-tile splashback to seal off the theme. White countertops can be made from MDF covered in laminate that create an anchor for the greens seen around the room. This would go well with a hardwood floor and downlights.
3. Try pairing wood and stone
Random splashes of red throughout your kitchen renovation with chestnut wood and concrete worktops work well alongside a kitchen island. You can add black cabinetry on either side of the room. Worktops along the perimeter of the kitchen made from weathered stone look good too. Pendant lighting would suit this kitchen with a brick backsplash. A concrete floor would look good in this kitchen.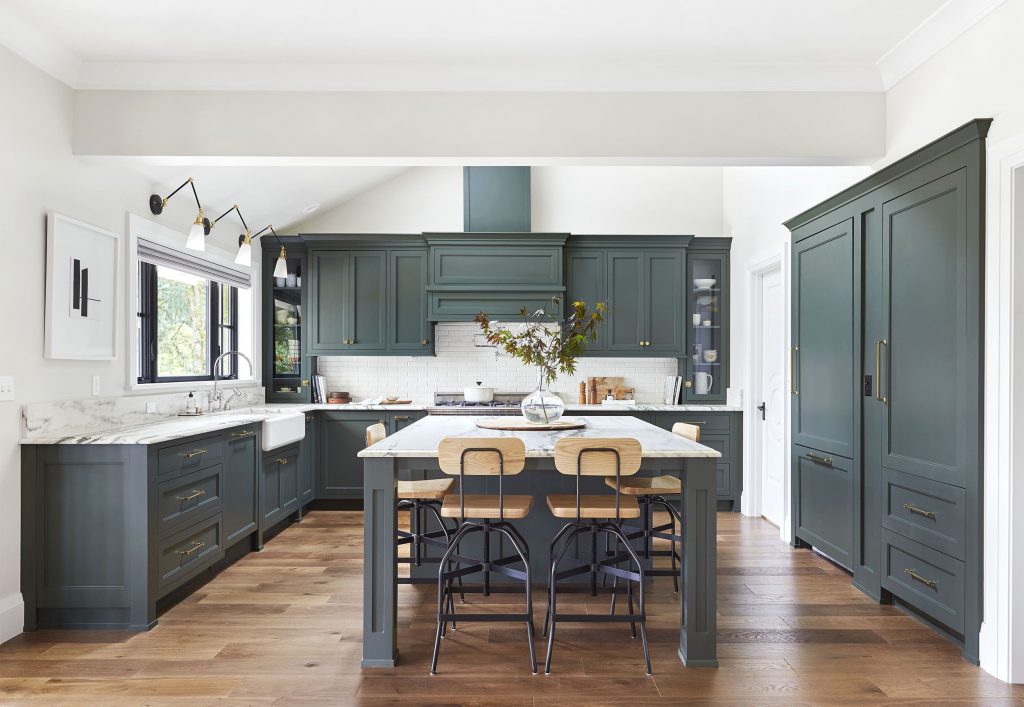 4. Try pairing teal and steel
A pastel coloured kitchen renovation will look good. Stainless steel worktops and powder-coated cabinetry in teal laminated cabinets matches this theme well. This mimics the 1950s look it originates from. Sliding pastel panels hiding away the upper cabinetry completes the throwback look. Speak to your kitchen designer at the kitchen company you are using to discuss these colour options and any other home improvement ideas in regards to the worktop and cabinetry pairing. A metal backsplash would suit this theme with an under mount sink in the meal preparation zone. Pendant lighting would finish off the kitchen well. Light coloured ceramic tiling would suit the flooring in this kitchen.
5. Try pairing white on white
You can choose a matte white oven to match the rest of the white on white design. A white kitchen is timeless and won't go out of style. A white marble splashback compliments quartz worktops and white matching cabinetry. Adding brass and wood elements ensure that texture is seen. Discuss these home improvement ideas with your kitchen designer for further input on your kitchen renovations. A white tiled floor would finish off this kitchen style well.
6. Try pairing blue and grey
By adding a compact stove and oven it will be hidden by the blue cabinetry. Small spaces will look good in colour too, if you have a small kitchen. You can maximise the space by streamlining the design. Try floor-to-ceiling powder blue cabinetry. Thin Carrara marble used to make a backsplash as well as worktop pairs really well. You can also hang a mirror at one end of the small kitchen to create a sense of space. The blue and grey theme works well and compliments each other. Discuss these home improvement ideas with your kitchen designer. If you visit the showroom look at their small finished kitchens for further ideas on the worktop and cabinetry pairing. Dark hardwood floors would suit this kitchen finished off with pendant lighting and a marble backsplash.
7. Try pairing black on wood
If you are looking for a moodier feel in your kitchen this pairing will work well for you. Add plants and mirrors to lighten the moody feel. Black soapstone countertops offset by a walnut island looks aesthetically pleasing. A handmade tile backsplash flanked in steel will complement this well. By adding plants and metal aspects the colour theme will be softened. Well-placed mirrors bounce light across the room. The kitchen designer you are using will provide further home improvement ideas for your kitchen renovation so you have the best possible outcome. Black subway style tiles as backsplash would go well in this kitchen with a light coloured tile floor.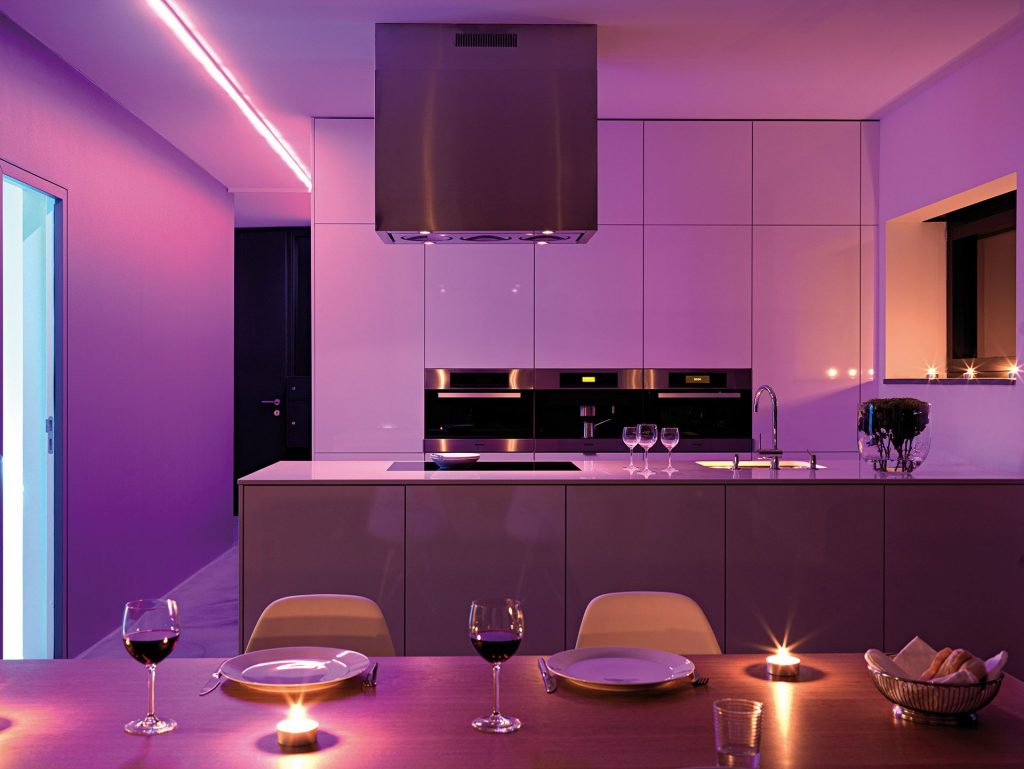 8. Try paring concrete and pink
With mid-century roots, this theme still looks good. Pink-coloured cabinetry offset against concrete worktops looks in keeping with an earlier day but still trendy in today's kitchen landscape. A baby pink will work well adding softness and a welcoming feel to your kitchen. Speak to your kitchen designer for further home improvement ideas. A subway tile backsplash and pendant lighting would work well with hardwood flooring.
9. Try pairing dark cabinets with lighter coloured granite
If you are adding a dark finish to your cabinets, find a lighter coloured granite for the worktops. If you choose white cabinetry or light coloured wood cabinets, a sophisticated grey granite will give you a modern look in your kitchen. If you have honey-coloured wood cabinetry a dramatic black granite contrasts well. Cabinets in a shade of brown work well with beige and brown granite worktops. Granite is a pricier choice of worktop but it always looks good in making a statement in your kitchen and it's a durable material.
The way you pair your worktops and cabinetry ties together the theme in your kitchen
Your worktops and cabinetry take up most of the visual space in your kitchen and they add functional and aesthetic value to your kitchen overall. It is recommended to visit a kitchen showroom in Scotland at a kitchen company and speak to the kitchen designer about your budget, to begin with, and then begin discussing ideas of pairing worktop and cabinetry material. There are nine pairing ideas that have been discussed that work well in any kitchen. Oak wood cabinetry goes well alongside quartzite worktops. Both these materials complement one another and frame the scene well of an adjoining garden through the kitchen's window or door. Two-toned rosemary cabinetry works well with laminated MDF worktops in white. These two classic colours complement each other. Splashes of red throughout the kitchen alongside chestnut cabinetry and concrete worktops tie the theme together. Teal laminated cabinets and stainless steel worktops seal in a 1950s theme if that's something that appeals to you. Quartz worktops and white cabinetry add elegance to a white on white themed kitchen.
Marble worktops alongside multi-coloured rainbow cabinetry add a sense of style to a kitchen theme. Powder blue cabinetry and marble worktops make for an elegant pairing duo. Black soapstone countertops contrasted against a walnut island looks aesthetically pleasing interspersed by plants and a mirror to lift the moody colour scheme. Pink-coloured cabinetry together with concrete worktops still look trendy in today's kitchen landscape. Finally, if you have dark coloured cabinets pair them with a lighter shade of granite. Overall there are many pairing options. You just need to choose your favourite worktop and cabinetry combination. This can be done together with the help of the kitchen designer you are using at the kitchen company in Scotland you have visited. You can create the ideal kitchen by pairing your worktops and cabinetry well with the assistance of your kitchen designer.